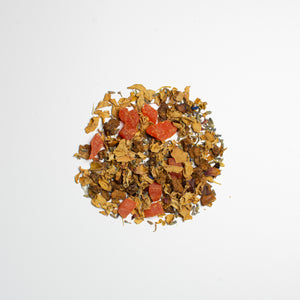 Perfect blend of red rooibos, green rooibos and peaches. This sweet blend produces a light greenish color cup with a full peach flavor. Peach rooibos makes a great base for frozen smoothie drinks.

How to brew the perfect cup:
Water: 212˚F / Boiling / Leaves: 1-1.5 teaspoon per 8 ounces / Infusion Time: 5-6 minutes
Ingredients:
Apple bits, red rooibos, green rooibos, candied papaya bits (papaya, sugar), raisins, peach bits (peach, rice flour), flavor, sunflower blossoms
Love it so much I have re-ordered it a 2nd time
You can't get much better than this non-caffeinated yummy peach tea to get me through my workdays! Would highly recommend!