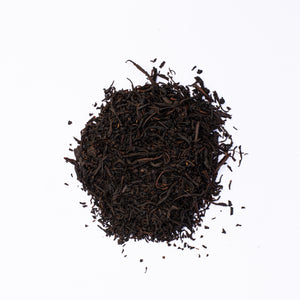 The fresh fruitiness of our medium-bodied Earl Grey is sweet, not soapy. Aromatic and balanced, Earl Grey is excellent both hot or served over ice. Traditionally, Earl Grey is made with black tea as a base - we use Chinese Keemun (Qimen), from the Anhui Province in east-central China, and Ceylon, from the major tea-producing island of Sri Lanka.
How to brew the perfect cup:
Water: 203˚F / Boiling / Leaves: 1-1.5 tablespoon per 8 ounces / Infusion Time: 3-4 minutes
Ingredients: 
Fair Trade Certified™ black tea and natural essential bergamot oil
Always delicious!
I'm a regular! The teas are always the best quality!
Okay, do Tea and Coffee stores have Groupies?
Another full bodied, yummy tea that pairs well with cream and sugar or is great black. The Earl Grey is yummy. I happened to bake Pumpkin Bread and Double Chocolate Muffins today. I had to sample each with the tea, of course, and the tea stood up and was a great pairing. Thanks again, Blush!! Signed, your groupie!
Earl grey tea
Excellent quality and flavor
My favorite
Best earl gray! Can't buy it anywhere else
Hi Suz! Thank you for the review! We are glad to be your number 1 stop (and only stop!) for Earl Gray :)