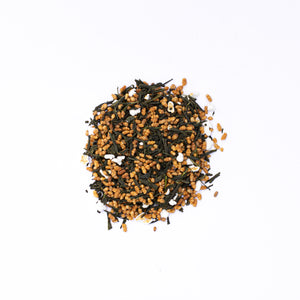 Genmaicha (gen-my-CHA) might just possibly be the best way to introduce novice taste buds to green tea, as the flavor of the toasted rice bolsters the richness of the premium sencha base. It's an earthy, Japanese sencha with toasted rice lending a delicate nuttiness. The sencha base used for this tea hails from the Miyazaki prefecture of the southern Japanese island of Kyushu.
Water: 185°F / Leaves: 1 teaspoon per 8 ounces / Infusion Time: 2–3 minutes 
Ingredients: Japanese Green Tea, Puffed Rice.