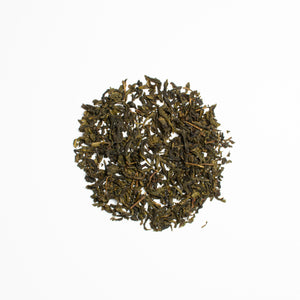 Coconut Oolong is one of our most popular tea! This lightly oxidized oolong tea from the South Pacific, has a long green leaf and a wonderful balance of sweetness and unami. The coconut note is true to the taste and will delight the palate with every sip!
How to brew the perfect cup:
Water: 195°F / Leaves: 1-1.5 teaspoon per 8 ounces / Inf usion Time: 3–4 minutes
Ingredients:
Oolong tea, Essence of Coconut
Strong Coconut flavor
If you love coconut this tea is for you. It has a strong coconut smell and flavor. Perhaps a bit to strong that it overpowers the tea. Very good just not my favorite.
I love this tea!
I usually drink green tea and keep it simple but have been enjoying a good cuppa oolong. I had been craving a summer kinda oolong and Coconut nails it. Good warm and on ice. I wish that I lived closer so that I could just stop in but for now I will just have to make online purchases. Only downside is the shipping fee, so it may not be very often.
This is not the first time I've bought coconut oolong tea. It's very good on cold nights, hot with a bit of milk. Occasionally I'll put some lime or lemon in the coconut (oolong) and drink it all down hot or cold in the summer. This recent purchase, the tea has been personalized. Some one has named it "Lulu's Oolong". I'll have to stop by the store next time I'm in St.Pete and thank Lulu for this blend.
So good!
I love everything coconut. This tea is delicious!
It's TEA best!!!
Enjoying all three teas purchased...coconut oolong is my fave!!! The coconut oolong puts a spring in my step and joy in my heart - a new tea experience! So thankful the friend I was visiting there served this tea - it has became a workplace (and home) staple!!