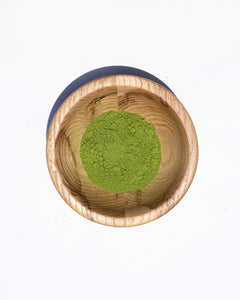 Our Matcha is a high class Japanese green tea. It is renowned for its numerous health benefits. Ceremonial Gyokuro tea leaves are ground to a fine powder between two large granite stones. The flavor is complex with a slightly spicy initial flavor with a long-lasting sweet finish. Matcha is full bodied in flavor and has the unique "Unami" taste.

Matcha is great for lemonades, lattes, power shots, cold brews, and smoothies.
How to brew the perfect cup:
Water: 185°F / Leaves: 1 level teaspoon in a bowl/ add freshly boiled, cooled water/ froth with a bamboo whisk until all powder is suspended.
Ingredients:
China Green tea leaves
Size; 30 gram sealed tin (approximately 1 ounce)
*Accoutrements not included*