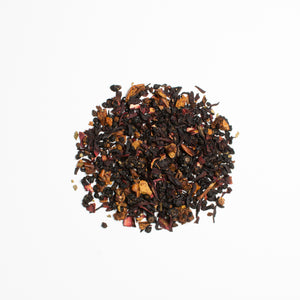 Paper Airplanes features an aromatic treasure of sweet and delicious fruits and berries in a colorful and appetizing fruit tea blend. Let the dreams of childhood live again! Paper Airplanes is named after the Paper Airplanes Project, a St. Petersburg, FL based nonprofit.
Pro Tip:
Try it iced!
How to brew the perfect cup:
Heat the water to 212°F (boiling), use 1-1.5 teaspoon per 8 ounces of water and infuse for between 5–7 minutes.
Ingredients:
Elderberries, hibiscus blossoms, apple pieces, black currant, flavoring, freeze-dried blackberries, freeze-dried strawberry and raspberry pieces, wild strawberry leaves.
Excellent customer service and tea
I love my paper airplanes tea. It makes the best iced tea. This company is great. They always let you know the status of your order and shipped promptly. I would definitely order from them again.
Fantastic for blending!
I am such a fan of Paper Airplanes' fruity, tangy deliciousness. I use red raspberry leaf tea and stinging nettle tea to boost my iron levels because I am prone to anemia, but both of those are nothing special in the taste department. I infuse them with Paper Airplanes and a little honey, though, and the result is *wonderful* - delicious, plus the extra vitamin C from the fruit leads to better absorption of the iron, so it's a double win!
Super Tasty!
I am not a huge tea drinker and prefer the fruity flavors to the more traditional teas. This was perfect! I will absolutely purchase again and can't wait to try others. Ordering was easy and arrived quickly.
Love paper airplane!!!!
This is a reorder. One of my favorites.